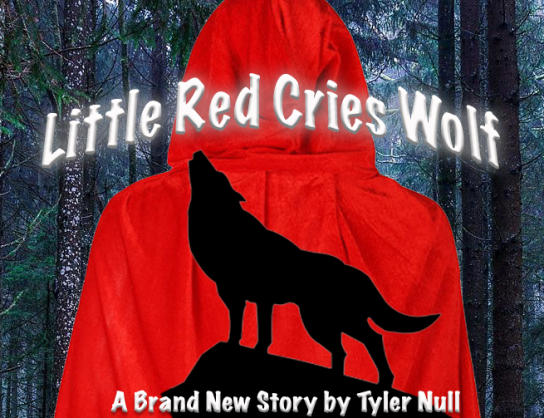 Little Red Cries Wolf
The story is all over town. As Little Red went into the forest to deliver breads and cakes to her sick grandma, she was stalked by a Big Bad Wolf. And then, in sinister fashion, the wolf attacked and ate the little girl. Fortunately, a hunter who was passing by spotted the wolf, and rescued Little Red. And now Little Red is safe back at home, and everyone is so glad.
  There's only one problem: The story was a complete lie.
  And now that lie is starting to have unintended consequences. And now the town is whipped into a fury. And now all the best hunters in the land are descending on the forest, in search of wolves that they assume are all "Big and Bad."
  As her lies add up, and the world closes in, Little Red must set out on a journey to save the very thing she once demonized. But with her story spinning further and further out of her control, can she really make things right?
  Written by TYR's Tyler Null, and featuring a slew of popular songs recognizable to the young and less-young, this original take on the classic tale explores prejudices that we find all around and inside of us, and how we face our mistakes.